Interviews
Inclusion Through Entertainment is changing the way we perceive the special needs community. Inclusion Through Entertainment is the name of an annual event held in southeast Florida to celebrate the accomplishments and talents of people with unique needs and challenges.  The event is so successful that it's hard to get in if you don't buy your ticket well in advance and arrive on time.  People come from all over to attend this huge celebration.  Music fills the air, as well as other various kinds of entertainment. In addition, you will see a beautiful fashion show, meet celebrities from the music world, hear speakers from all over the country.  The 2016 event featured Mohammed Ali's widow.
Electricity and excitement fill the room at each event.  Happy smiling faces glow from every table in the facility.  It is a family gathering and everyone is welcome.  Vendors are lined up selling beautiful arts and crafts.  Sponsors and contributing guests supply the products offered for sale.  It is a noteworthy gathering that is meant to promote Inclusion Through Entertainment.  Have you ever asked yourself why it has been the practice of Hollywood producers and casting agents to put non-disabled actors in roles that portray people with challenges?  Old misconceptions die slowly.
How do we change negative social stigma's?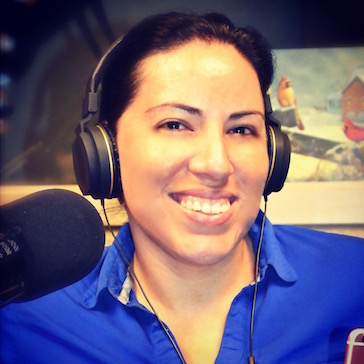 Yessenia speaks about inclusion for all
The special needs community has always been subject to negative stigma and public rejection.  One very talented young woman, by the name of Yessenia, is making a noticeable difference in the world with her original events, Inclusion through Entertainment.  As a child she struggled with physical chellenges because she was born with spina bifida.  Spina bifida is a condition that occurs when a baby's spinal cord does not close completely during formation of the spine.  Not only did she overcome the worst of her  issues, she excelled beyond all expectations.  In addition to her day job, she uses every second of spare time to spearhead these events.  It is a demanding undertaking.  As a result of her determination others want to assist and join in.  In 2017, Yessenia plans to have the fourth annual Inclusion through Entertainment event.
Why is it successful?
It is a community working together to bring about change. That is one of the reasons it is so powerfull. It is a real display of energy for a greater good.  In conclusion, if you missed the last few events, do not miss the up and coming event in 2017!
Yesse speaks about Inclusion Through Entertainment
Born with Spina Bifida, Yessenia and her family would face many lifelong challenges.   "Your baby will not live long, she will always depend on you, she will never drive, she will never go to college" are words parents dread.
It was time to find the best specialist in the medical field!  Yessenia's parents found what they were looking for at Miami Children's Hospital!  An excellent medical team was developed so that they could provide the best orthopedic, neurology and therapy services possible.  Yessenia was in for a battle.  Therefore, she fought back and refused to lose.
After many surgeries, therapy, leg braces, and pain, she began to manage her condition.  Driven by the desire to succeed, she participated in sports activities of all kinds refusing to accept limitations.
Nothing was going to stop Yessenia.  She peservered and became a strong, active young woman with a passionate desire to help others who have unique needs and challenges. Consequently, she  continues to struggle with a life long mobility challenge.
Yessenia proudly says, "I have always wanted a job where I'd be in a position to help others.  Now I am giving back."  She not only works with the special needs community, but hosts radio programs, creates events and speaks professionally. Yessenia Levya enjoys using her talent of communication to inform the community on disability related topics and issues.
Since 2011, Yessenia has organized Independence on the Runway, "No Limits!"- Showcasing our abilities in the fashion world, without limits as well as DisAbilities Expo, Inspiration Runway, and multiple Disability Employment Awareness, along with her most recent production, Inclusion Through Entertainment.
Click arrow to listen