DANCING ON OUR DISABILITIES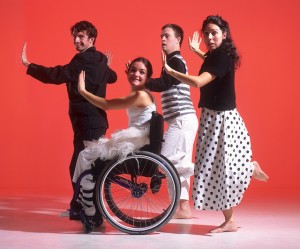 Welcome to Dancing on our DisabilitiesTM Internet Radio Show.
Dance is an art form, which is most commonly associated with physical movement put to the rhythm of music. However, here at Dancing on Our Disabilities, dancing is of a spiritual nature and a figure of speech, an emotional expression and social interaction. We embrace our disabilities and we dance with our hearts, and our minds.
Dancing on your DisabilitiesTM is a global forum where those of us who are challenged are invited to share our personal stories of survival and triumph over medical issues. A meeting place to gather information and resources for the enrichment of society. We are a group dedicated to bringing medical information, motivation, and inspiration into the lives of people with chronic health concerns. Sometimes, the agenda maybe advice from a specialist or MD and at other's times simply an inspiring story wrapped in an entertaining format. It is our objective and mission to create a show, which helps inform the public about all kinds of common medical conditions from autism to arthritis and at the same time removing stereotyping about the productivity and value of our fastest-growing minority, the disabled.
We are a group that believes in equality for all. We know that our challenges do not define our value as productive human beings. Our challenges make us stronger. Together our voices will be heard, and our talents celebrated.
Are you our next guest?
&nbsp
s/2014/10/listen-with-talkshoe-icon.png" width="299″ height="58″ />