Dancing On Our Disabilities Radio interviews
Luz Rosenfeld's DOOD Radio Interview
Amazing events are not easily forgotten nor can one forget a powerful woman on a mission.  As an inspirational speaker, I was recently invited to attend an amazing event created by Luz Rosenfeld  in coordination with the City of Doral, FL.  The gathering was in celebration of Mothers Day.  It was the Pampering Mommies Special Event, held on May 2, 2015.  It was a spectacular all day affair enjoyed by all who attended in outstanding numbers that exceeded 250 to 300 people.  The room was packed with smiling faces.  The goal for the day was to give recognition and attention to mothers and caregivers of special needs family members and loved ones.  There was laughter, wonderful food, speakers, and important information for the public, free massage therapy by Luz's massage specialists, gifts for the audience, music and celebration.  The bigger goal is to integrate and include special needs individuals into society with complete acceptance so they to can work towards the American Dream.
No one could detect that Ms. Rosenfeld was grieving for her fathers passing just days before the event.  She put other people's needs before her own in a display of selfless good will.  It was the second event of it's kind in Doral, Florida organized by Ms.Rosenfeld.  Luz is determined to continue her advocacy work by setting an example for society that discrimination against people with disabilities will not be tolerated.  One of her accomplishments is achieving the award " Doralian Woman " in 2014, and she is the Chairwoman of The Special Needs Advisory Board for the City of Doral.  The goal is to help provide employment for the blind and other special needs individuals.  Amazingly, all of the massage therapists giving free treatments to the special needs mommies were blind.  I was  totally impressed with their skill and professionalism.  Luz aims to demostrate to the public how valuable well trained people with visible and invisible disabilities can be.  In addition, much of the delicious food was created by a talented blind chef Irving Alvarado. This event proved that  anything is possible when Luz puts her heart into it.  The event was a great success!
When Luz Rosenfeld enters a room her very appearance commands attention. She is a beautiful, self-confident woman.  At first glance she appears to be in optimum health.  It is only when you notice her service dog, Chelsea and her fashionable sunglasses that one may or may not perceive that she is totally blind.  Luz, is originally from Colombia, South America where she grew up and enjoyed a normal able-bodied childhood with a caring family.  AS an adult, she became a woman with great ambition, passion, and a loving giving spirit.  While raising her children, she also focused on her professional life, developing a career in Event Planning, as well as Fitness Training.
Then suddenly in midlife, she developed excruciating migraine headaches, which were caused by blood clots.  Eventually these clots caused her to lose her eyesight in the prime of her life.
Adversity is something we all face at one point or another.  However, blindness is a disability that invades one's independence and creates a world of complete darkness where midnight and high noon are indistinguishable.
Amazing facts! 
Did that stop Ms. Rosenfeld from rebuilding her life and going above and beyond the norm to help others struggling to overcome disability?  Of course not!  After a period of adjustment and rehabilitation, Luz pursued a new career in massage therapy.  Her goal was to help relieve the stress people deal with when living with a disability, and also to lessen anxiety experienced by their caregivers.
Luz works closely with the Division of blind Services and with the City of Doral, Florida as a disability advocate.  She also travels to South America to help spread the concept that people with special needs have talents and abilities just like the rest of the population.   She says, "they deserve recognition, respect and the opportunity to succeed in life."
Amazing facts!
 I am proud to be associated with Ms. Rosenfeld.  She is changing the negative attitudes of others and helping to level the playing field for people with challenges through her tireless work as an advocate.  On behalf of all people with special needs, I extend a heart felt thank you to Luz for her hard efforts.  Although I can not speak for the City of Doral, I'm sure they are grateful it is home to Ms. Rosenfeld.  She is a firm believer in offering opportunity to all individuals willing to work towards success. The photography was created by Galina Vitols for www.doralcitylife.com  
     Contact Luz Rosenfeld:
An amazing celebration!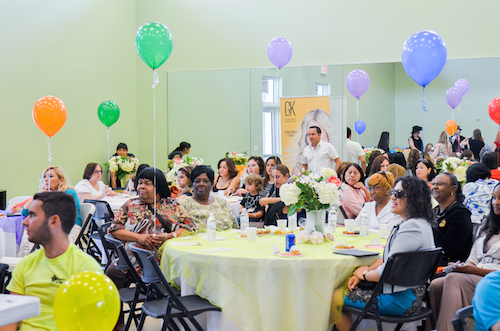 There was amazing food!