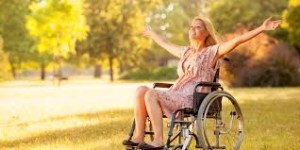 This girl is happy because of your help
DOOD Radio is proud to present Maite Reyes-Coles  
Maite is dedicated to improving the lives of others.
Or visit www.talkshoe.com and click on episode 144
Change happens when we support each other.  If you or someone you love became disabled tomorrow, would you know what to do or where to find help?  When I was paralysed by polio at age 10, I thought my life was over because I was disabled.  Then strange things began to happen. The world suddenly offered kindness.  People I never met came to my rescue to help aid in my struggle to recover.  Because people like you had a big heart and helped me get the wheelchair, braces, and crutches I needed to learn to walk again my life was transformed.  I'll admit it was rough and some days I just wanted to give up. I cried when I was pulled to my feet and took my first step. I stood at the parallel bars and looked into a mirror that reflected a young girl who looked more  like the Tin Man in the Wizard of Oz than a budding adolescent.
It took three years before I was strong enough to return to school at 13.  That age is a difficult time.  I wanted to be accepted and not looked at as the broken girl.  Each time I fell down, I got up again with the determination that nothing was going to stop me from succeeding.  I remember thinking if I had not had the braces and wheel chair I would be stuck in a bed or chair forever, forgotten by the world.  I was truly blessed.  The gifts you gave me helped me build the courage to move forward one slow baby step at a time.  I am eternally grateful. I went on to become a successful business woman, wife, mother and now grandmother.
Have you ever considered what the quality of your life would be like if you lost your independence? What if it happened to your child or someone you care about? Most of us do not think twice about choosing to go from one place to another without assistance. It is something that is considered normal for most people and therefore taken for granted. For one moment, imagine that you had a physical or developmental limitation that prevented you from feeling free to choose where to go, when to go, or how to go anywhere. To most of us it is an inconceivable and unpleasant thought.
It is my turn to give back and help support others.  CILO can't do it alone.  They need our help.  Asking for support is never easy.  This request is not for me, but for those who are in danger of being overlooked and forgotten.   CILO is asking for our for help today.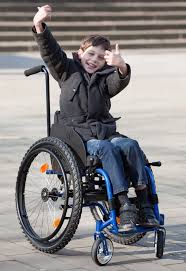 A beautiful boy with lots of hope
Life is hard for thousands of people living with disabilities.  Having a disability in itself creates a challenging life.  Consider the ramifications that come along with having a disability.  For many it means that opportunities dwindle and daily living is a fight for survival.  For most people with disabilities it means that they will live their lives below the economic standards considered acceptable.  Right about now if you are thinking that insurances such as Medicare or Medicaid will help those help people with disabilities living below the poverty level, and are in need of equipment, think again.  Yes, it is partially true that some of the equipment they need will be supplied.  However, many extra items and repairs of existing equipment are not covered by insurance at all.  So instead of having the freedom to go out and buy what they need, many people with disabilities are financially challenged and have to go without the essentials.  Thank heaven for wonderful organizations such as The Coalition for Independent Living Options of West Palm Beach, Florida.
This year marks 25 years since CILO opened its doors  It was the first and the only independent living center serving people with disabilities in 4 counties, Palm Beach, Martin, St. Lucie, and Okeechobee.  They have grown from a small grassroots organization to a community stakeholder serving over 3,000 individuals a year.
CILO is participating in the Great Give on May 5th at 5pm –May 6th,2015 at 5pm.  The Great Give is a 24 hour online fundraising event. We can't reach our goal with out your help.
It is an opportunity for local nonprofits to raise unrestricted funds with which to assist their consumers.  CILO's goal is to raise $10,000 to purchase equipment for their afterschool program and repair wheelchairs for consumers.  The mission is to promote independence for people with disabilities and provide advocacy for victims of crime and domestic violence.
As a person living with a disability, I want to help others less fortunate than I.  Why shouldn't they have what they need to live a life of indepenence and happiness?  To many of our children are struggling with disabilities.  So many family members find themselves caregivers  sacrificing their own quality of life for someone they love.  Now as we are on the eve of Mother's Day, I think back foundly of my own mother who worked tirelessly to take care of me, her second child totally paralized by polio.  How she must have suffered?  A heart felt thank you to all the parents and caregivers.  A special thank you to agencies such as The Coalition for Independent Living Options of West Palm Beach who continue to give support to families and individuals in need.
People with disabilities are one of the fastest-growing subgroups in our society today.   It is a subgroup that anyone can become a part of at any moment.  We are all living longer and therefore facing age-related disabilities as well.  Please find it in your heart  to help support The Coalition for Independent Living Options with a donation so that others can live a more independent life?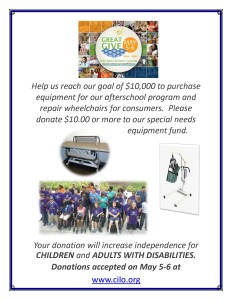 How to give:
Donate to our special needs equipment fund (minimum $10.00).
Help CILO increase and promote independence in the community for children and adults with disabilities.
Your donation will repair wheelchairs for consumers and purchase equipment for our afterschool/summer program.
About Maite Reyes Cole-Director of Programs.
Maite Reyes- Coles, M.A. is the Director of Programs/ Operations at the Coalition for Independent Living Options, Inc. (CILO) in West Palm Beach, FL.   Their mission is to "promote independence for people with disabilities". Maite has worked at CILO for 11 years since relocating from New York City to West Palm Beach in 2004. She has over 15 years of experience providing services to people with disabilities.
Maite is the Past Board President of the Homeless Coalition. She served on their Board of Directors from 2006-2009. She is a regular member of Palm Beach County's Housing and Homeless Alliance Group where she was recently elected as Chair elect for the Executive Committee. She contributed to Palm Beach County's 10 year Plan to End Homelessness ensuring the needs of persons with disabilities were addressed in the plan
Maite is a graduate of Florida Atlantic University as well as New York University where she received her Master's Degree in interdisciplinary studies with a focus on juvenile delinquency.
Contact phone: 561-966-4288
Coalition for Independent Living Options, Inc.
6800 Forest Hill Blvd.
West Palm Beach, FL 33413