Jean Kennedy Smith founded VSA, an international nonprofit organization more than 35 years ago, in an effort create a society where people with disabilities learn through, participate in, and enjoy the arts. VSA arts offer a means to self-expression, communication, and independence for people with disabilities regardless of age. By learning through the arts, students become lifelong learners, experiencing the joy of discovery and exploration, and the value of each other's ideas.
Each year millions of people participate in VSA arts comprehensive programs through a nationwide network and in 70 countries around the world. Their mission is to change perception of people with disabilities along with old practices, community-by-community, classroom-by-classroom and instructor-by-instructor.
I am a member of VSA arts here in Palm Beach County, and speaking firsthand as a artist with a disability, I can tell you the organization is amazing! Creativity is my life and it also saved my life. The VSA arts of Palm Beach County has played a very important part in my continuing development as a professional artist by offering the venues by which I can promote my art. All individuals with disabilities who aspire to develop careers in the arts, visual or performing, regardless of age, are offered complete access to the educational programs, cultural facilities, and activities.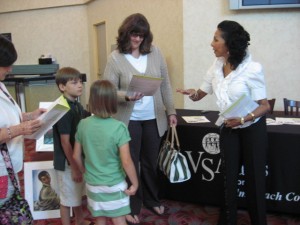 On April 26 and 27 at the Kravis Center, VSA arts of Palm Beach County along with their affiliates, presented the play titled "Nobody's Perfect" by Marlee Matlin and Doug Cooney.  I had the honor of representing VSA arts. I met the wonderful students and wonderful teachers. The performance which was one hour in length targeted schoolchildren and teachers of grades 3rd to 8th. This truly outstanding play is a story of a young girl named Megan who has spent a year planning her "positively purple" birthday party. Megan finds herself at odds with a new student named Alexis. Alexis appears to be perfect and remains aloof and unfriendly, which causes Megan to believe this new student does not like her because she is deaf.
Wow! Do you know anybody who's perfect? I don't. The play, which is adapted from the book, is a musical and it is a reminder that despite first impressions, nobody's perfect.
If you have missed the play I highly recommend you read the book, and then give the book to someone who will learn from this story. Self-esteem is a very good thing.
In addition, I would like to add that if you or anyone you know would like to participate as an artist with disability or volunteer for this incredible organization please do contact VSA arts of Florida. You will just love the staff!